Thank you for giving to St. John's United Methodist Church. When you give to St. John's,  you support a variety of ministries that focus on justice, compassion, and love of all neighbors throughout the Lubbock community and the larger world.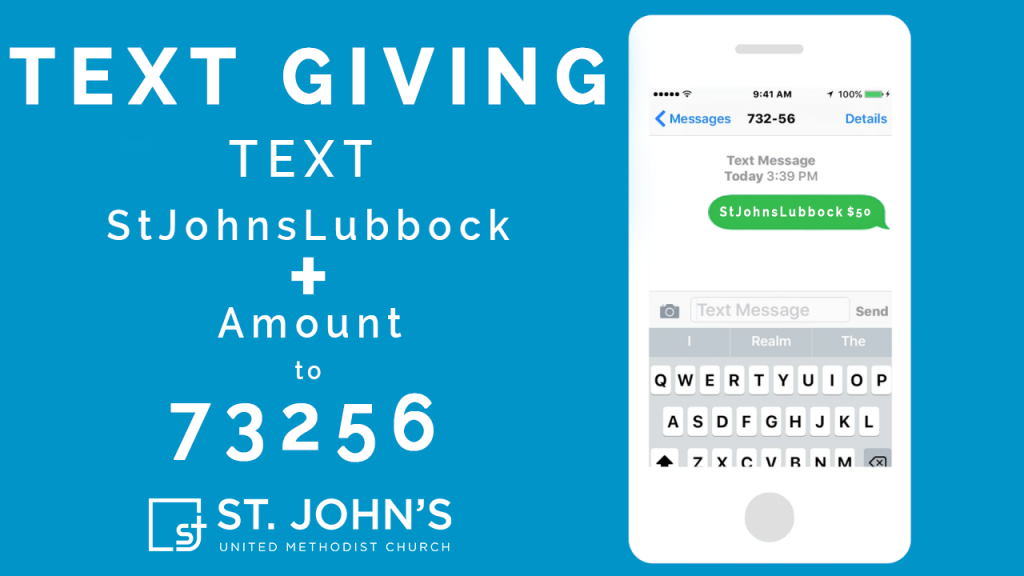 You can now give your gift to St. John's via text. Simply text "St. John's Lubbock + the amount" to 73256!
You can also mail your gift directly to St. John's at 1501 University, Lubbock, TX, 79401
Make Your Pledge to Support St. John's
Starting October 4th, we're asking all members to begin considering making a financial pledge on November 15th to support St. John's in 2021. Members' financial commitments employ staff, fund programs, and maintain our church building.  Without your pledge commitment, it is impossible to budget appropriately for the coming year.  Giving to the work of God and thereby St. John's is measured in equal sacrifice and not equal amounts.  Please thoughtfully consider what you and your family's financial pledge can be knowing that "God loves a cheerful giver (2 Cor. 9:7)."
If you have questions about our ministries, online giving, or if you need assistance, please contact the church office at (806)762-0123.